Top South Granite & Natural Stone Special Offers!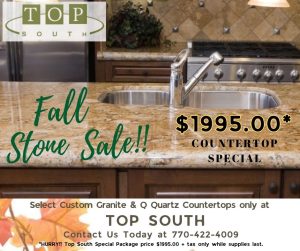 Don't miss this INCREDIBLE OFFER!! on select Granite & Quartz Stone for your countertops!
You deserve a natural stone countertop that is high-quality and affordable. That's why Top South has the perfect package for you!
It includes everything you need for your countertop project. And we take care of everything with professionalism and care. Let us make your dream space even more amazing with your own style and personality!
HERE IS WHAT YOU WILL GET!!
* Up to 45 sq. ft. of Granite or Q Quartz Countertops
* Your choice of 3cm Blanco Leblon Granite, 3cm Caledonia Granite, 3cm White Ice Granite or 3cm Arctic White Q Quartz.
* Standard Countertop Edging
* Your choice of Undermount Stainless Steel Sink
* Sink Cutout, Custom Countertop Templating, Fabrication, Delivery, & Installation Included!
*Top South special package price $1995.00 + tax while supplies last.
---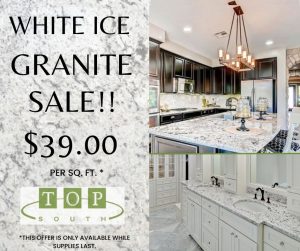 Imagine this beautiful White Ice Granite in your kitchen or bathroom!
White Ice granite is a remarkable stone. The pristine white bedrock is intertwined with gray swirls that are found in various shades from deep and dark through to almost white. The gray streaks and swirls that run through it ensure the white is softened and creates a stunning effect and can totally transform the look of your kitchen into a thing of beauty.
White Ice Granite is on SALE now for only $39.00 a sq. ft.
---
Blanco Leblon is a granite variety from Brazil that features a white base with black and grey veins. The white color is not pure, but rather a soft and creamy shade that complements the dark specks on the surface. The contrast between the colors creates a striking and elegant look for any granite countertop project.
Blanco Leblon is on SALE now for only $29.00 a sq. ft.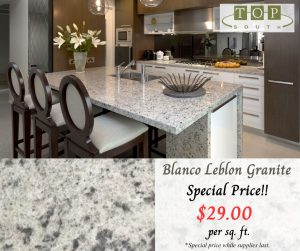 ---
Caledonia Granite is a stunning natural stone that originates from Brazil and Canada.
It features a neutral gray background with white and dark gray veins and specks. It also has subtle hints of pink, black and brown, as well as black mineral and crystal clusters. Caledonia granite has a rich and complex pattern that is consistent throughout the slabs that will enhance any space. It is a versatile stone that can be used for indoor and outdoor applications.
Caledonia Granite is on SALE now for only $29.00 a sq. ft.