A storage solution from a big box store is usually a few inches too tall or short, overly wide or narrow, too shallow or deep, and cannot really provide the storage you need for the actual space in your home. One size really doesn't fit all, which is why Top South can help you design a custom build to fit almost any space.
Whether the requirement is a few shelves or a walk-in closet, every process starts the same—we stay focused on your needs to drive the final product. We'll sit down with you to discover your goals. Do you need more shoe shelves? More space to hang clothes? All of the above? Whatever you're searching for, we'll take exact measurements of your space, and we'll evaluate the items you need to store. Then we'll share our ideas on how to make the most of it, including a wide range of colors, drawer styles, closet doors, and lighting options.
But what really sets this process apart is when we come back to you with a digital design, so you can actually see what your custom closet solution will look like. And we quote the cost up-front. It's a great way to remove surprises during installation and provide you with the storage solution you deserve.
A sample of our custom storage solution offerings include:
Walk-in closets
Reach-in closets
Children's closets
Garage storage systems
Home office design
Laundry rooms
Pantries
Custom-built bookcases
Office and/or break room cabinetry
Mudrooms
Craft rooms
Murphy beds
Specialty spaces
Our storage solutions are also designed to keep pace with the changes in your life. They are easily adjustable to meet new storage needs, such as when a child leaves for college, or you launch into some new hobbies during retirement.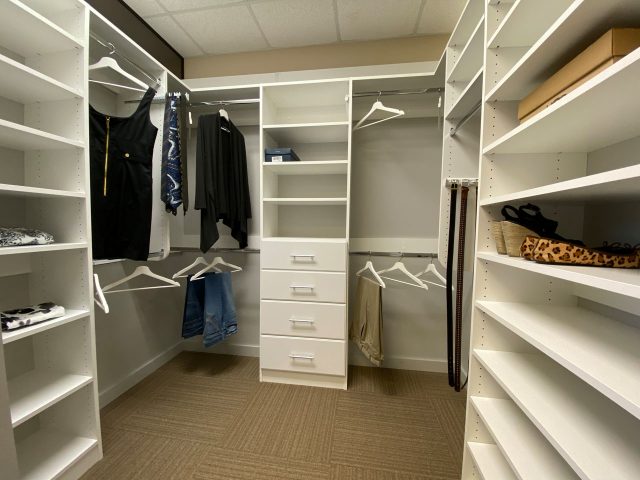 Come and visit our showroom
Visit our showroom to learn more about our custom storage solutions and how they can take the clutter out of life. We can evaluate your storage challenges and build the right answer to help you keep everything in order.
Custom Closets
Watch how our experts create your custom closet in our own facility.